1. System Description:
The tread section thickness measurement system (ON-LINE type) is specially designed for the tread extruder to automatically measure the thickness of the semi-pressed products during the tread production process.
In order to meet the requirements of different production lines and meet the requirements of customers for real-time online, the latest development line laser online thickness measurement system.
The system adopts C-frame structure and is installed on the tread extrusion line. The real-time thickness and width of the tread section are measured, and the thickness and width of each point of the section are calculated. At the same time, the error range of each point can be set, and the change of tread thickness and key size can be monitored in real time, and the alarm output can be carried out.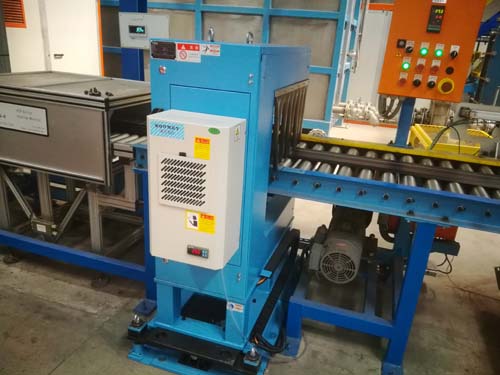 2. Technical indicators:
Sensor type: line laser sensor, real-time measurement of tread profile size;
Thickness measurement range: 40mm;
Width measurement range: 450mm;
Thickness measurement accuracy: 0.1mm;
Width measurement accuracy: 0.5mm;
Sampling frequency: MAX5 times/second;
Applicable linkage line speed: 60m/min;
Working voltage: AC220V 50Hz;
3. System Functions:
Measure the width of the extruded tread;
Measure the thickness of the extruded tread;
The tread profile is formed according to the width and thickness of the extruded tread.
The extrusion tread cross-sectional area was calculated.
Comparison and analysis with standard contour;
Component symmetry comparison and analysis;
Local magnification analysis of special parts of the components;
According to the width and thickness of the extrusion tread compared with the standard value and output sound and light alarm;
All measurement data can be stored for more than three years, and can be printed or displayed at any time for quality traceability.